Public transport busy as journey restrictions lifted
Demand for train seats has increased this weekend, said Iarnród Éireann as he advised passengers to book in advance so as not to be left behind.
As travel restrictions are relaxed and people travel from place to place on weekends or Christmas, public transport has seen a surge in demand that is expected to continue in the coming days.
Bus and train stations and stops are littered with people traveling to their homes from work or college, as well as people who take the opportunity to cancel inter-county travel to visit family members and friends.
At the Waterford bus station, student Natasha Wyse was preparing to take a bus to Cork for the first time in months.
"Just to see my college friends, I was in college in Cork and everything was online so I had to come home," she explained, adding that it will be "amazing" to meet her friends again.
"I'm just so excited to see her again. Of course it won't be the same, I have to be careful and everything because when I get home for Christmas it's a risk, but I'm just glad to see her in hers House and whatever. Maybe we won't go out, but seeing her again is just very nice. "
Across the Rice Bridge at Plunkett Station, Catherine Egan had just got on the train from Bagenalstown in Co Carlow to see her sister.
"Just for a while … my first time in a while," she said. "My sister is alive, so we'll hibernate in the house, that's what it will be. It's been a few weeks since I've seen her, I was so used to going down to see her."
She said she "will be in Waterford for a few days and then I will return" but was happy to see her sister before Christmas.
Another woman, Amy, had come from Cavan to visit her grandmother in Carrick-on-Suir.
"About two months ago, dude," she said when asked when she had last seen her grandmother, adding that it was "terrible" not to be able to visit.
"I'm so used to going to see her at least once a month."
She chose the Cavan trip "because the restrictions were lifted today and it is close to Christmas.
"I don't know what will happen after Christmas," she said.
A man who got on the Dublin-Waterford train at Carlow did so "just for the day, just came down before Christmas to meet his family".
He said he was taking the opportunity to meet family members as they may not get a chance to get home. "We look forward to just coming down for a few hours and then coming home."
He added that he had not seen these family members "in months."
"It was difficult. It was difficult for everyone in Ireland."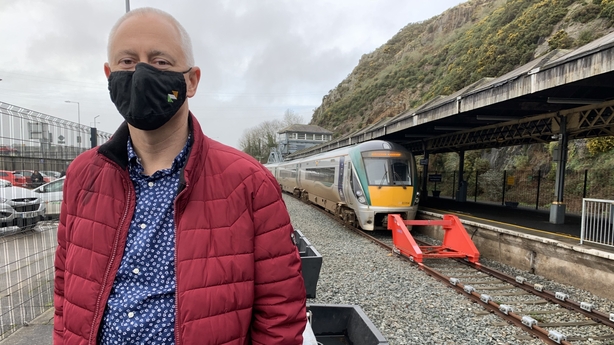 Irish Rail spokesman Barry Kenny said there is "growth in demand" compared to what the company has seen in recent months, but trains can only carry up to 50% of normal capacity.
"We tell all of our customers that it is important to book intercity trips in advance to ensure they can travel with us during the season," he said.
"Bookings have definitely increased," the company said year-over-year, "and we would see the busiest times approaching 50% of capacity. This is why it is so important for people to plan their trip. . it definitely exists. " Capacity available now but will be fully booked closer to the travel day. "
Since today is the first time that many people are allowed to travel between the counties, "it goes without saying that we will see some growth at this point," he said, "but we are very grateful to customers who mostly stick to it Regulations, wearing face coverings on board, which is mandatory, and for those who have not traveled with us for some time, there are also seat restrictions on board to ensure distancing when traveling. "